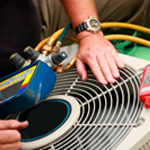 Broerman and Sons
is now scheduling our Residential Maintenance Plans
Call today and schedule an appointment for your
Residential Maintenance Plan. Your Maintenance Plan
for both Spring & Fall Check-Ups is only $170 (per system).
Under our maintenance plan, if you have a problem in the heating/cooling season after we have
performed your maintenance, your cost for labor will only be a $50 co-pay per visit during
regular business hours of 7:30 am * 4:00 pm. A $75 co-pay applies during non-regular hours.
This plan is available per technician's discretion.
*Commercial rates may vary.
MAXIMIZE Your comfort, your unit's efficiency, and life.
MINIMIZE Your wait, your health risk, and your cost.
Our maintenance plan is extremely competitive and our customers will continue
To receive high quality, 24 hour priority service. Routing Spring & Fall Maintenance is an
Important part of maintaining your Heating/Cooling System in proper working order,
Thus reducing or eliminating costly repairs.
*Maintenance must be performed by either May 1st for Spring Maintenance
or October 31st for Fall Maintenance to receive this special.